Day 1 :
Keynote Forum
Nanorx Inc., USA
Time : 09:30-10:30

Biography:
P R Raghavan is the CEO of Nanorx Inc., and has a PhD in Organic Chemistry from Oregon State University (1979). He has done his MS in Chemistry (1972) from IIT Mumbai, India. He has worked on Drug Discovery for over 25 years at Columbia University; Max-Planck Institute, Germany; Ciba-Geigy (now Novartis), and Boehringer Ingelheim
Abstract:
Metadichol (US patent 8,722,093) is a nano emulsion of long-chain alcohols found in many foods. It is commonly called policosanol and is present in foods such as rice, sugar cane, wheat and peanuts. Metadichol acts on nuclear vitamin D receptors (VDR) (US patent 9,006,292) that are present in cells throughout the body to stimulate the immune system and inhibit a variety of disease processes. Vitamin D deficiency has been shown to alter insulin synthesis and secretion in both humans and animal models. Downfield effects of VDR lead to GPR 120 agonist activity with an EC50 of 3.3 ug/ml when compared with the known agonist GW9508. The anti-inflammatory effect of GPR120 stimulation promotes insulin sensitivity. Metadichol® treatment of ZDF rats showed a reduction of fasting glucose levels and decreased insulin resistance. Also, we have demonstrated that it increases insulin production and also reduces insulin in cases of hyperinsulinemia. Case studies of type 1 and type 2 diabetes and gene expression analysis will also be presented. Anti-diabetic activity of Metadichol® in ZDF rats showed reduction in fasting glucose levels and decreased insulin resistance. In addition, it increases insulin production and also reduces insulin in cases of hyperinsulinemia. Case studies of type 1, type 2 diabetes and gene expression analysis will also be presented. Metadichol consists of natural components of common foods and has no known negative side effects; Metadichol has the potential to serve as a novel, treatment for insulin related diseases. It has the potential to serve as a novel treatment for diabetes related diseases that confront public health today.
Keynote Forum
Human Photosynthesis® Research Center, Mexico
Time : 10:30-11:15

Biography:
Arturo Solis Herrera has done his PhD in Pharmacology. He has done his MD with specialty in Ophthalmology. He is the Director and Founder of Human Photosynthesis® Research Center. He has published more than 30 papers and five books on melanin.
Abstract:
The human body has handled the glucose from the beginning of time. After millions of years of evolution, it is difficult to understand the reasons why the body seems to forget something that can do very well. Glucose is a carbohydrate, and nature generates it by combining CO2 with water. It has the ability to divide, combine, oxidize, etc. Using it as a source of carbon chains, from which the body creates biomolecules. 99% of the molecules comprising us contain a backbone of carbon atoms. The daily intake of carbon chains is required to replace the biomolecules that are subject to wear every day. Therefore, glucose is a wonderful molecule which functions in the human body. But glucose cannot provide the energy needed for their own metabolism. Our discovery of the intrinsic property of the melanin to transform the visible and invisible light into chemical energy, dissociating the molecule of water, such as chlorophyll in plants, breaks into a thousand pieces the sacred role of glucose as energy source. Therefore we must rethink our concepts about bio energy processes of the body, limiting the role of glucose to supply carbon chains, and including the melanin as the bio energetic molecule par excellence.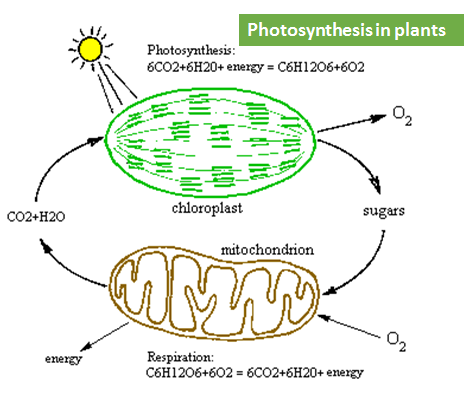 Break:
Networking & Refreshments Break 11:15-11:30 @ Foyer
Keynote Forum
University of Melbourne, Australia
Time : 11:30-12:15

Biography:
Richard C O'Brien is the Clinical Dean of Medicine at the University of Melbourne. He is the Director of the Lipid Service and a Senior Endocrinologist at Austin Health in Melbourne. Over the last 20 years, his research work has focused mainly on atherosclerosis and diabetes, lipid abnormalities and endothelial dysfunction and has authored over 70 scientific papers on these subjects. He is currently the Chair of the Australian Diabetes Society Expert Committee on Hyperlipidemia and is a past President of the Australian Atherosclerosis Society.
Abstract:
Lipid lowering therapy, particularly with statins, is a powerful tool to reduce cardiovascular (CV) risk in people with diabetes. However, controversy exists as to exactly who should be treated, and how aggressively. The 2017 Australian Diabetes Society Lipid Guidelines recommend treatment for high risk individuals regardless of baseline LDL cholesterol (LDL), and calculation of absolute risk, with an adjustment based on presence of micro-vascular complications, for those not obviously at high risk. Statins are recommended for all patients with established CV disease (CVD), and in those with significant risk factors such as renal impairment. In patients without CVD, treatment is recommended if 5 year CV risk is ≥10%. High intensity statin is recommended for patients with existing CVD or high risk (≥15%), and moderate intensity statin for risk 10-15%. LDL should be reduced by ≥50% and to a target of <1.8 mmol/L for high risk; and by ≥30% with a target of <2.0 mmol/L for moderate risk patients. Ezetimibe is recommended if targets are not reached. Elevation of triglycerides, especially with low HDL-cholesterol, is associated with increased CV risk even when LDL controlled, and fibrates can reduce risk in that setting. Fenofibrate does not interact with statins, and may be added to statin therapy where LDL is at target but triglycerides are ≥2.3 mmol/L and HDL is low (<1.0 mmol/L male; <1.29 mmol/L female). Fenofibrate has been shown to reduce the development of diabetic retinopathy, even in people with normal triglycerides, and should be initiated in all type 2 diabetic patients with existing retinopathy.
Treatment of Diabetes | Diabetes Medication & Therapy | Type 2 diabetes & Obesity | Diabetes Melitus|Diabetes Research | Diabetes Chronic Complication
Location: Vasco de Gama 2
Chair
Arturo Solis Herrera
Human Photosynthesis Research Center, Mexico
Co-Chair
H Henry Dong
University of Pittsburgh, USA
Session Introduction
National Center for Global Health and Medicine Kohnodai Hospital, Japan
Time : 12:12-12:45

Biography:
Hidekatsu Yanai is a Fellow of American College of Physicians (FACP), is the Director of the Department of Internal Medicine and Clinical Research and Trial Center, National Center for Global Health and Medicine Kohnodai Hospital, Japan. He obtained his MD and PhD degrees in National Defense Medical College and Hokkaido University School of Medicine, respectively. He was an Invited PhD Research Fellow at the National Institute of Health (NIH), USA. He is the Editor-in-Chief of Journal of Endocrinology and Metabolism and also an Editorial Board Member of ten medical journals. He has 168 published papers in reputed medical journals.
Abstract:
The new drug for type 2 diabetes, the sodium-glucose co-transporter 2 inhibitors (SGLT2i), leads to reduction of renal tubular glucose reabsorption and reduction of plasma glucose, in an insulin-independent manner. For the treatment of diabetes, in addition to glucose control, the management of coronary risk factors is crucial. First, the author searched for the published articles about the possible anti-atherosclerotic effects beyond glucose lowering of SGLT2i, by using PubMed, and found that SGLT2i are proved to be significantly associated with weight loss and reduction of blood pressure by a relatively large number of studies. Second, we retrospectively picked up patients who had been continuously prescribed SGLT2i by a chart-based analysis, and compared the data before the SGLT2i treatment with the data at 1, 2, 3 and 6 months after the SGLT2i treatment started, and found that SGLT2i significantly reduced HbA1c and body weight and improved liver function. Further, the author found a significant difference in hypoglycemic effect between canagliflozin with a low potency to inhibit SGLT1 and tofogliflozin which is a highly selective SGLT2 inhibitor. As the key to resolve this issue, a different distribution between SGLT1 (intestine) and SGLT2 (kidney) came to my mind. SGLT2i with potency to inhibit SGLT1 may be more effective to lower glucose as compared with highly selective SGLT2i, in patients with renal insufficiency. To understand an influence of the estimated glomerular filtration rate (eGFR) on improvement in metabolic parameters by SGLT2i, we sub-analyzed our study and discovered that body weight decreased by SGLT2i, independently of eGFR, however, the changes in HbA1c and liver function depended on eGFR. Recently, Sano reported that elevation of hematocrit by SGLT2i may be a surrogate marker for recovery from reversible tubulointerstitial injury; it was found that erythropoietin could be one of renoprotective effects of SGLT2i.
University of Missouri Columbia, USA
Time : 12:45-13:15

Biography:
Guido Lastra is specialist in Internal Medicine and Endocrinology. He is a research-oriented assistant professor at the University of Missouri in Columbia. His area of interest is the pathogenesis of chronic over-nutrition induced insulin resistance and cardiovascular disease. He is focused on studying the role of the mineralocorticoid receptor in the development of insulin resistance-mediated vascular dysfunction. In particular, he is actively exploring the interactions between inflammation and mineralocorticoid receptor activation that lead to vascular stiffness. Dr. Lastra has presented his research in several prestigious International conferences, including the International Aldosterone Conference, the Endocrine Society Meeting, and the American Heart association (High Blood Pressure Council) Meeting. Dr. Lastra has more than 50 publications in peer-reviewed journals, frequently as first author, in prestigious journals including, Diabetes, Endocrinology, Hypertension, and the American Journal of Physiology (AJP). He has served as reviewer for important journals, including Diabetes, Diabetes Care, and the Lancet.
Abstract:
Obesity is a leading risk factor for the development of type 2 diabetes mellitus (DM2) and cardiovascular disease (CVD), however the underlying mechanisms still remain to be fully uncovered. It is now well accepted that dysfunctional adipose tissue in conditions of obesity is a critical source of inflammation that impacts the cardiovascular system and contributes to CVD. Although traditionally visceral adipose tissue has been linked to increased CVD risk, there is mounting interest in the role that fat accumulation around the vasculature plays in the pathogenesis of vascular dysfunction. Perivascular adipose tissue – PVAT- is in intimate contact with large, medium and small diameter arterial beds in several tissues, and has been shown to control vascular function as well as remodeling. PVAT does not merely mirror visceral adipose tissue changes seen in obesity, but has unique features that impact vascular biology. In lean individuals PVAT exerts vasodilatory and anti-inflammatory functions, however obesity results in PVAT inflammation, characterized by imbalance between pro and anti- inflammatory cells as wells as adipokines. PVAT inflammation promotes insulin resistance in the vasculature, thus resulting in impaired insulin-mediated vasodilatory responses and vascular remodeling. In this review we address current knowledge about the mechanisms that link PVAT inflammation to insulin resistance and vascular dysfunction. Indeed, PVAT emerges as a novel type of adipose tissue that participates in the pathogenesis of CVD, independently to a large extent to visceral adipose tissue.
RUDN University, Russia
Time : 14:00-14:30

Biography:
Irina Kurnikova is a Professor of Medicine, RUDN University (Peoples Friendship University of Russia), Russia. She has done her PhD in 2010. She has dealt with the problems of endocrinology for more than 20 years. She had led a course of Endocrinology at the Medical Academy (Izhevsk, Russia), Endocrinology department of Russian Scientific Center of Medical Rehabilitation and Health Resort, Russia. Currently, she teaches at Peoples' Friendship University of Russia, Curator of the Scientific Direction of Endocrinology. She has published more than 20 articles in well-known journals, and is the author of 25 books and manuals in Russian.
Abstract:
Statement of the Problem: Three systems provide the physiological functioning and interaction with the environment: Autonomic nervous regulation, endocrine-metabolic system and immune system. The most operational system of autonomic regulation, the level of functioning of which varies with age and systemic disorders inside the body. The purpose of this study is to assess the impact of diabetes mellitus on mechanisms of autonomic regulatory in different age groups.
Methodology & Theoretical Orientation: 101 people were divided in four age groups: 20-30 years, 31-40 years, 41-50 years and 51-60 years of age. All patients were evaluated based on autonomic regulation by the method of spectral analysis of daily variability of the heart rhythm power spectrum of oscillation in three frequency bands: 0.004-0.08 Hz (very low frequency – VLF), 0.09-0.16 Hz (low frequency – LF) and 0.17-0.5 Hz (high frequency – HF). The selection of three frequency ranges is due to differences in their formation. The low frequency range reflects the activity of the sympathetic system on the segmental level, the high-frequency range, the activity of parasympathetic nervous system at the segmental level.
Findings: Patients with diabetes at the age of 30-40 years we have seen a decrease in parasympathetic activity, which is more typical for patients the next decade of life. Since the age of 41, there was considerable centralization on mechanism of regulation (increase VLF), which usually starts 10-15 years later. The decrease in the total power spectrum on the background of inadequate compensator of diabetes showed decrease of reserve opportunities of the organism.
Conclusion & Significance: An important cause of early atherosclerosis in patients with diabetes is, in addition to endothelial dysfunction, syndrome of "early aging of regulatory system" (the reason - autonomic neuropathy). The status autonomic regulation in the current decade corresponds next age decade of the patient, which leads to increased comorbidities and increased cardiovascular risk.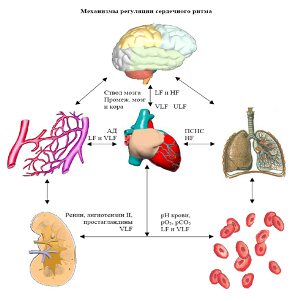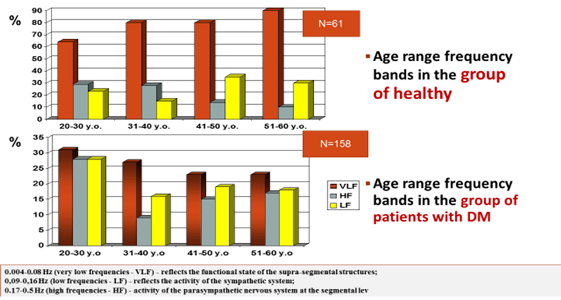 Prince Sultan Military Medical City, UK
Time : 14:30-15:00
Biography:
Bandar Manawer Al Harbi, Assistant Director of Pharmacy for Material Management, Prince Sultan Military Medical City, (PSMMC).
Abstract:
Prediabetes describes a condition whereby an individual's level of blood glucose is above normal level, though not high enough to warrant them a T2D diagnosis. The condition is classified into two categories; impaired glucose tolerance (IGT) where blood glucose levels are above the normal 2 hours after glucose loading in the oral glucose tolerance test but not so high to warrant the classification as diabetes. The other is impaired fasting glucose (IFG) where blood glucose have risen to a fasting state but yet again, not so high to warrant the classification as diabetes. Physical exercise improves BG homeostasis but the extent to which exercise is effective strategy as primary prevention mechanism for people whom at risk to develop diabetes is not fully understood.
Purpose: To examine the effects of 6-weekes moderate-intensity combined aerobic and resistance exercise program in preventing or delaying the onset of diabetes for subjects at risk compared to sedentary non-diabetic individuals. Methods: 20 subjects of a sedentary lifestyle, diagnosed with either prediabetes or at risk to developed T2D (PRE-D) and 5 Subjects were sedentary healthy individuals (ND) met the inclusion criteria. Both PRE-D and ND have been asked to complete 6-weeks of moderate-intensity combined aerobic and resistance exercise for 60 minutes on two days/week. Each exercise session consists of a combined exercise protocol of 30 minutes of resistance exercise (3 sets of 10 repetitions) followed by 20 min cycling. The primary outcome is to concentrate on metabolic results, such as improved HbA1c, blood pressure, heart rate, 1-repition max, lipid profile (reduction in Total Cholesterol, Low Density Lipoproteins, Triglycerides or increase High Density Lipoproteins) and improvements in insulin sensitivity determined by responses to oral glucose tolerance tests on independent days.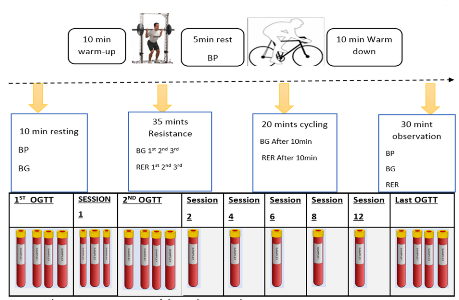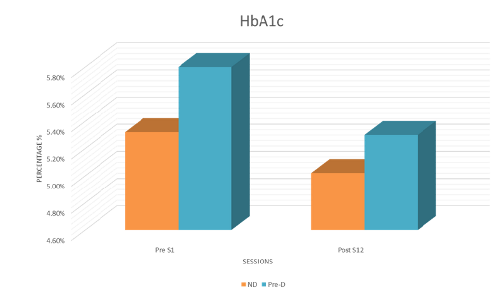 Charles Nicolle's Hospital, Tunisia
Time : 15:00-15:30

Biography:
Mehdi Khalfallah has completed his Medical studies from Faculty of Medicine of Tunis, Tunisia. He is an Assistant Professor in Surgery at Charles Nicolle's Hospital since 2012. He is an Editorial Board Member and Drafting Committee Member of "la Tunisie Médicale" (indexed in PubMed, impact factor=0.3). He has published more than 15 papers in reputed journals.
Abstract:
Background & Aim: Identifying the infecting bacterial flora is one of the main rules to be followed to ensure the success of antibiotherapy in the treatment of the infected diabetic foot. The aim of the work was to define the bacteriological profile of the bacteria causing the infection of the diabetic foot at the Surgery Unit B of Charles Nicolle's Hospital in Tunis and determine the prognostic factors of this condition.
Methods: It was an open prospective study. It concerned 100 diabetic patients operated on for diabetic foot infection. All patients had bacteriological samples taken through deep scraping and swabbing carried out in the operating room.
Results: The average age of patients was 59.5±11 years, with a sex ratio of 2:4. The foot infection was represented in 82% of cases by a wet gangrene. The enterobacteria were the most frequently isolated bacteria (73%), followed by Streptococcus (10%), Staphylococcus aureus (9%). The rate of multidrug-resistant bacteria was of 9.5%. The empiric antibiotic therapy used (fusidic acid+amoxicillin/clavulanic acid) was inactive on 44.1% of the isolated bacteria. When we compared the group of patients with unfavorable development (who have been re-operated) and the group of patients with favorable development, we have found two poor prognosis factors: arteritis (p=0.018; OR=23.7) and presence of multidrug-resistant bacteria (p=0.027; OR=5.8).
Conclusion: The enterobacteria were the main bacteria causing the infection of diabetic foot. The prognostic factors found, arteritis and isolation of multidrug-resistant bacteria; outpoint the importance of multidisciplinary care.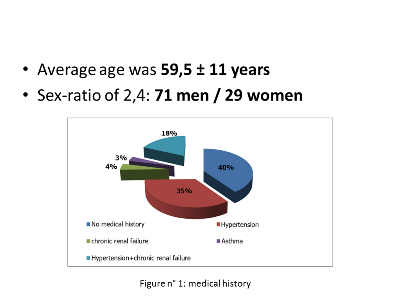 Charles Nicolle's Hospital, Tunisia
Time : 15:45-16:15

Biography:
Mehdi Khalfallah has completed his Medical studies from Faculty of Medicine of Tunis, Tunisia. He is an Assistant Professor in Surgery at Charles Nicolle's Hospital since 2012. He is an Editorial Board Member and Drafting Committee Member of "la Tunisie Médicale" (indexed in PubMed, impact factor=0.3). He has published more than 15 papers in reputed journals.
Abstract:
Background & Aim: Major amputation of the lower limb is defined by a leg or thigh amputation. The aim of our work was identifying predictive factors for lower limb major amputation in patients with diabetes admitted on for foot lesions through using an administrative data base.
Methods: It was a retrospective study ranging from June 1st, 2008 to December 31st, 2011, which included all the patients admitted on for an infected diabetic foot to the Surgery Unit B of Charles Nicolle Hospital in Tunis. The main judgment criterion was the major amputation of the lower limb. We have done a descriptive and a comparative study, with univariate and multivariate analysis.
Results: We have enrolled 319 men and 111 women. The average age was 60.5±12 years. Ninety five patients had a major amputation that is 24% of cases. Former inpatient, patient readmitted within one month post-operatively, stay in intensive care, admission in intensive care within 48 hours after admission, age ≥65 years, presence of kidney problem, preoperative stay and length of intervention were identified as predictive factors of major amputation in the univariate analysis. Age is the only independent variable predictive for major amputation which appeared from the multivariate analysis (p=0,004). The age cut-off ≥65 years have a specificity of 69% and a sensitivity of 47% (p=0.004, OR=1.971, IC 95%: 1.239-3.132).
Conclusions: Age is the only independent predictive factor for major amputation of the lower limb in the diabetic foot with a threshold value higher or equal to 65 years. Patients aged more than 65 had 1.9 times more risk to undergo major amputation of the lower limb.
University Hospital Olomouc, Czech Republic
Time : 16:15-16:45
Biography:
David Karásek is an associate professor of Internal Medicine at Faculty of Medicine and Dentistry of Palacky University in Olomouc, Czech Republic. He works as Deputy Head of Third Department of Internal Medicine – Nephrology, Rheumatology and Endocrinology of University Hospital Olomouc. He manages the Center for diabetes of University Hospital Olomouc and as specialist doctor is involved in the activities of the Clinic for endocrine diseases and the Center for lipid metabolism disorders. His research is focused on the issue of dyslipidemia, metabolic syndrome, insulin resistance, visceral obesity and their relationship to early cardiovascular involvement. He is the author or co-author of several chapters in monographs or textbooks and of about one hundred scientific papers. He is the editorial board member for the two scientific journals. For his research, he received a number of medical awards (Prizes of the Czech Society for Internal Medicine, Czech Society for Atherosclerosis, Czech Diabetes Society) and the Minister of Health of the Czech Republic Prize for research and development.
Abstract:
Introduction: Adiponectin, adipocyte fatty acid-binding protein (A-FABP), fibroblast growth factor 21 (FGF-21), C1q/TNF-related protein 9 (CTRP9) and allograft inflammatory factor-1 (AIF-1) differently contribute to oxidative stress, chronic inflammation, insulin resistance and vascular damage. The aim was to compare their levels in patients with type 2 diabetes and in healthy controls and to determine their relationship to markers of endothelial dysfunction and arterial stiffness.
Methods: 54 patients with type 2 diabetes (32 men, 22 women) and 21 healthy controls (8 men, 13 women) were included in the study. Adipokines, lipids, anthropological parameters, indicators of insulin resistance and also soluble markers of endothelial dysfunction - von Willebrand factor (vWF), plasminogen activator inhibitor-1 (PAI-1) and tissue plasminogen activator (t-PA) were measured. Augmentation index (AI) and pulse wave velocity PVW measured by SphygmoCor served as markers of arterial stiffness.
Results: Type 2 diabetics had significantly higher levels of A-FABP [50.0 (38.1-68.6) versus 28.6 (23.6-32.9) mg/l, p<0.001], vWF [133.1 (110.7-163.2) versus 98.5 (84.4-125.0)%, p<0.01] and PAI [78.1 (41.2-106.5) versus 36.9 (27.5-41.9) ng/ml, p<0.001] and lower levels of adiponectin [5.9 (4.3-9.0) versus 11.3 (8.7-14.8) mg/l, p<0.001] compared to healthy controls. Differences in other adipokines were not statistically significant. Adiponectin correlated negatively with vWF levels (r=-0.29, p<0.05) and PAI-1 (r=-0.35, p<0.01), A-FABP positively with vWF (r=0.45, p<0.01) PAI-1 (r=0.46, p<0.01) and augmentation index (r=0.39, p<0.01). The levels of FGF-21 correlated only with PAI-1 (r=0.27, p<0.05).
Conclusion: Patients with type 2 diabetes have significantly higher levels of A-FABP and lower levels of adiponectin. These adipokines correlate with markers of vascular damage and may interfere with the cardiovascular risk of these individuals.